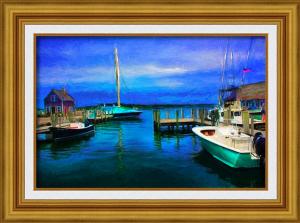 We recently visited the Boston-Martha's Vineyard-Nantucket Areas in Late May early June.

We were eager to bring back some "Inventory" for our Fine Art America website. Armed with a new camera for my wife ( Cyber-shot DSC-RX100 I 20.2 MP) and my old trusty Canon 18 MP camera we eagerly traveled to see what we could capture. In the heat of the day, I was envious of the Sony point and shoot camera !.... Honey, do you want to swap?.....

Battling the hot weather in Boston and hazy skies in Nantucket and Martha's Vineyard ( only a couple of bright sunny days ) we shot enough photos to keep us busy for a while. We specifically shot in Raw Format, and because of the hazy days - this gave us extra latitude when working with the results back at home.

So far, we have added over 150 new photos to our website. Photos run the entire gamut of BW, Boats, Lighthouses, Museum, Library, Etc

Please visit our website at http://www.4world2c.com and check them...